U15 - U16

SESSION WINTER 5
REACTION
HEADLAND
EXERCISE
CODE
REACTION
Speed React-Accel shot
VRE09
Set up as shown in the diagram, 3 attackers against 1 defender. Player number 1 begins the drill on the wing when he is ready. The rest of the players react to his movement. Distances of 20m. Maximum intensity. Complete rest, with time taken to walk to next station normally sufficient. * Sprint 20m and lateral centre. * Kneeling start, sprint to the near post to shoot. * Start with back turned, turn and sprint to defend. * Lying down, sprint and shot at far post
LEARNING LEVEL
OBJECTIVES
All
Speed of reaction and acceleration, shot
NUMBER OF PLAYERS
VARIATIONS
All
distances, positions, number of players, attack.
TRIM-CCTS AVERAGES
PROGRESSION
0.27
Increase repetitions, series, distance, deception, adversar
DIMENSIONS
SERIES
DURATION
REST
30x60
2-4 x 4 ejer
15'
45" rep/2' ser
ASPECTS TO BE WORKED ON
1
Maximum intensity
2
Try to gain position
3
Quality of cross for arrival of strikers on run
4
Do not precipitate start
5
Perform action on both wings
FINISHING TECHNIC
HEADLAND
EXERCISE
CODE
FINISHING TECHNIC
4x4+4(4 out) with 2 goals in finishing z
TFN03
In a 30x20m rectangle with 2 large goals, a reduced game of 4x4 with 4 jokers (2 at each end of the pitch). Jokers change after a certain time, no corners, only goal kicks. The objective is constant finishing with shots, exploiting the forward position of the jokers in the finishing zone .
LEARNING LEVEL
OBJECTIVES
All
Apply techniques developed in situations of reduced play
NUMBER OF PLAYERS
VARIATIONS
12
Vary dimensions, nº of touches, vary zone of jokers, limit
TRIM-CCTS AVERAGES
PROGRESSION
0.45
reduce spaces, reduce touches, Reduce numerical superiority
DIMENSIONS
SERIES
DURATION
REST
20x30m.
3-6
3-4'/series
30'' / series
ASPECTS TO BE WORKED ON
1
Shooting options
2
Speed in play.
3
Pass backwards
4
Fast interaction, ...
5
AVOID PROGRESSING
HEADLAND
EXERCISE
CODE
AVOID PROGRESSING
Defence in zone in 2 triangles
EVP13
2 teams+ one joker. The defenders cannot leave the zonal triangle, 3 attackers inside and 3 outside try to overrun it to finish, changing roles after x steals or set time.
LEARNING LEVEL
OBJECTIVES
All
intercepting, anticipating, closing passing lanes,pressurisi
NUMBER OF PLAYERS
VARIATIONS
11
Increase nº jokers, widen spaces ,zone and touches opponent
TRIM-CCTS AVERAGES
PROGRESSION
0.43
Increase nº jokers, widen spaces , zone and touches oppone
DIMENSIONS
SERIES
DURATION
REST
60x60
3
4'
1'
ASPECTS TO BE WORKED ON
1
Switching play from side to side, intercepting, pressurising, tackling, anticipa
2
Not losing sight of ball, maintaining lines, distance maintained between defende
3
Avoid progression to avoid maintaining possession (eliminate unpassed passing la
4
Group cohesion and decision-making in exterior and interior opposition attacks.
5
Constant analysis of one's own 1st line of pressure , and emphasis on 2nd .
APPLICATIONS FOR LINES
HEADLAND
EXERCISE
CODE
APPLICATIONS FOR L
Imaginary line 6x6 with 6g in 2 zones (3
ALD01
Possession with superiority in 2 zones (3x3 in each) looking to progress and then finish by entering or receiving in the scoring zone. Maximum 3 passes in starting zone. DEF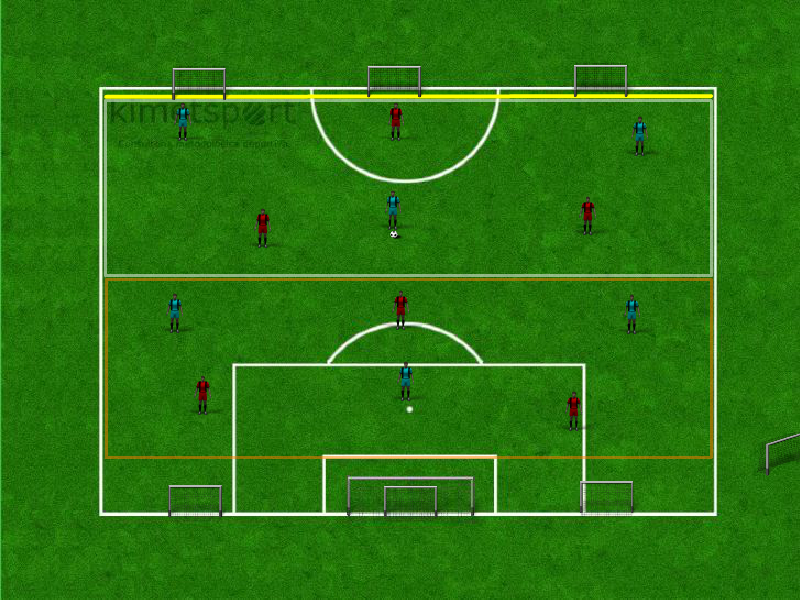 LEARNING LEVEL
OBJECTIVES
All
Support, passing lanes, wall passes , changes of direction,
NUMBER OF PLAYERS
VARIATIONS
14
Reduce jokers, reduce spaces, reduce passes and time,…
TRIM-CCTS AVERAGES
PROGRESSION
0.40
Reduce jokers, reduce spaces, Reduce passes and time,…
DIMENSIONS
SERIES
DURATION
REST
50x60
2
7'
1'
ASPECTS TO BE WORKED ON
1
Observing patterns of play being developed to direct them towards those establi
2
Analysis of the efficiency of all the variables of the model of play, given the
3
Strongly favour control of play, in order to analyse perceptive intention of ele
4
Generate constant interpretation of basics of rival's play to adapt our defensiv
5
Development of both basics in defensive phase against said attack, and basics of